If you like the idea of ​​getting professional results but want a machine that creates your drinks automatically, the Melitta Barista TS Smart coffee maker is for you.
Are you looking for the truth? It's here. I've tested a wide selection of coffee machines to see how much of your countertop they'll take up, how easy they are to use, how quickly they'll deliver your drink, what coffees they'll make, and most importantly, what is the beers taste.
Do you want to compare the Melitta Barista TS Smart coffee machine to other machines on the market? Browse our guide to the best coffee machines.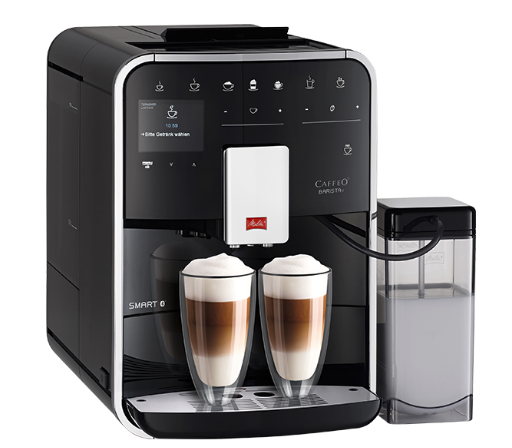 Specifications of the Melitta Barista TS Smart coffee machine
Type: From bean to cup and ground coffee
Pressure: 15 bar
Capacity: 1.8 liter water tank
Dimensions: H36.5 x W25.5 x D46.5 cm
Who will the Melitta Barista TS Smart Suit suit?
Households who love coffee and who don't hesitate to devote a good part of the workspace to the machine that makes them.
What does the Melitta Barista TS Smart look like?
Although it's sophisticated, you'll be brewing easily in no time thanks to the intuitive controls and excellent design.
The Melitta Barista TS Smart is a machine that delivers the panoply of coffee drinks without requiring any barista skills from you. Fully automatic, it's a hassle-free machine and a look to boot.
Coffee options and taste
Opt for this machine and there's unlikely to be any coffee you can't make. The classics are there via buttons: it's espresso, café crème, cappuccino and latte macchiato. However, the "Recipes" function allows you to create a full range of coffees including flat white, americano, ristretto, etc. with a total of 21 coffees available.
All the drinks I made tasted and smelled great. In fact, I found the results to be better than many high street chains and up to the standards of the best drinks made by baristas. The espresso flavor was intense without straying into bitterness, and the cappuccino fabulous in both texture and taste.
The temperature of the drinks was also ideal. Ready to drink but quite hot.
Brew
Although this machine is fancy, I found it beautifully simple to set up and use, taking less time to initially set up and start brewing coffee than many of its less versatile counterparts. I could make one drink at a time or produce two of the same coffee at once.
The beans enter the chamber at the top: on the left for espresso-based drinks, and on the right for latte-based versions so you can use the correct beans for the type of coffee. The machine will then use the appropriate chamber depending on the beverage you select. I found this easily accessible for refilling, as was the ground coffee chute which you can use instead.
To make drinks, I just had to press the right button or scroll through "Recipes" to choose from a wide selection of other coffees. I found both to be really simple to do. The preparation of the milk froth also turned out to be child's play. All I had to do was add milk to the container, plug in the hose and press the button for the right drink. The machine automatically added the frothed milk to the coffee as it was dispensed with brilliant results. In addition, the machine then offered the message 'Easy cleaning?' on the screen and then ran the program for the milk system, saving the hassle of manually cleaning a steam wand.
I found there was a lot more I could do to get the drinks I wanted. It was possible to change the settings for more strength and a more intense aroma before or during the preparation of a drink. I could also have changed the settings permanently. Big family? The machine can store up to eight user profiles to create the drinks that everyone prefers.
Cleaning and maintenance
Like other bean to cup coffee makers, you will need to take care of this machine to maintain the quality of its beverages. The easy clean option for the milk system (see above) meant the machine took care of that chore, and leaving the rinse off on stop ensured it did it on switch on and stopped.
Until me? A weekly cleaning of the brewing unit; a milk system cleaning program (which requires a cleaning agent), also weekly; regular cleaning of the milk tank, hose and milk unit; twice a month – or as required by the machine – cleaning of the coffee system; and three months – or, again, depending on demand – descaling.
Remember
There is no escaping it: this machine is expensive. However, if you're going to use its capabilities and have a large coffee-loving household, I think it's worth it both because of its versatility and its easy-to-master interface. Plus, unlike a built-in coffee machine, it can go with you if you're on the go – although admittedly it's not light at 10.6kg. There's a choice of black or silver/black finishes, so whichever you choose, the machine looks contemporary and stylish.
However, you will need a large kitchen. At H36.5cm x W25.5cm x D46.5cm, this coffee maker is no small feat and you need to be able to devote the space of the work surface to it. However, while its proportions can't be ignored, it's subtle when it comes to noise, which I appreciated. In fact, this machine has received a Quiet Mark which is a testament to its non-disruptive operation.
Smart appliance fan? An application allows you to manage your machine from your phone and create your own coffee specialities.
How does it rank online?
This coffee machine gets an overall rating of 4.2 out of five from Amazon buyers. Satisfied users think the coffee it produces is top quality, found the option to fill the container with two different kinds of beans useful, and said the machine was worth the investment. On the downside, some found the app didn't work for them, or the way they wanted it to.
AT ao.com the verdict of coffee machine users averages 4.3 out of five. According to these buyers, its benefits include great coffees, the ability to customize drinks to your liking, and ease of cleaning. Some thought setup and programming weren't immediately obvious.
About our review – and our review:
Sarah Warwick has specialized in homes and interiors for over 20 years. She was editor of Ideal Home magazine and has written for nationals, magazines and websites including Real Homes, Homebuilding & Renovating, Grand Designs, Homes & Gardens, Houzz, The Guardian, House Beautiful and Country Homes & Interiors. She put the coffee machines to the test on a variety of beverages, while checking how easy they were to set up and clean.
Looking for more coffee machine tips?