At 27 and after years of relying on Starbucks, I have to admit that I don't know how to brew a good cup of coffee. The world of coffee is quite intimidating. There are too many options and methods to choose from, and I barely know the difference between cappuccinos, lattes, macchiatos, and works. Luckily, Keurig has made it easy with its line of pod machines. The brand's latest launch brings the convenience of making artisanal coffee drinks at home. The K-Café Smart Coffee Machine ($250) is a smart brewer with a built-in milk frother and accompanying app that will have anyone who loves to indulge in a cup of coffee embracing their inner barista.
What I love about the Keurig K-Café Smart Coffee Maker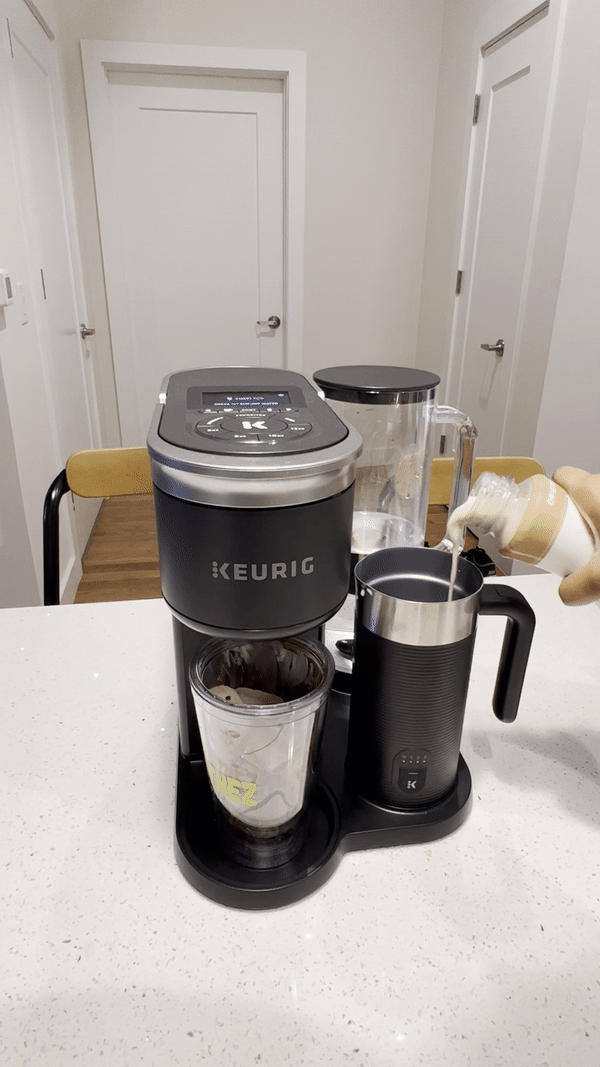 Keurig's first foray into smart coffee machines is the K-Supreme Plus Smart Coffee Maker, which is also an editor favorite. The main difference between the K-Supreme model and the K-Café model is the integrated milk frother. As someone who needs some type of creamer or milk in my coffee all the time, the frother is something I really appreciated. It is easy to use and maintain while being quiet and mess-free. Simply pour the milk of your choice between the min and max lines and select your froth level. It has three speed settings and a cold setting for frozen drinks. To clean, I simply remove the whisk and lightly sponge the inside with soapy water and let it dry.
Just like the K-Supreme Plus smart coffee maker, this model is equipped with BrewID technology. The brewer can instantly recognize the specific brand and roast of the K-cup pod, then automatically customize the brew settings as recommended by the coffee expert who created it. However, you can customize and personalize it to your liking. Choose from five strengths, six temperatures, four brew sizes, brew over ice, and single or double coffee options. You can do all of this through the machine or the Keurig app.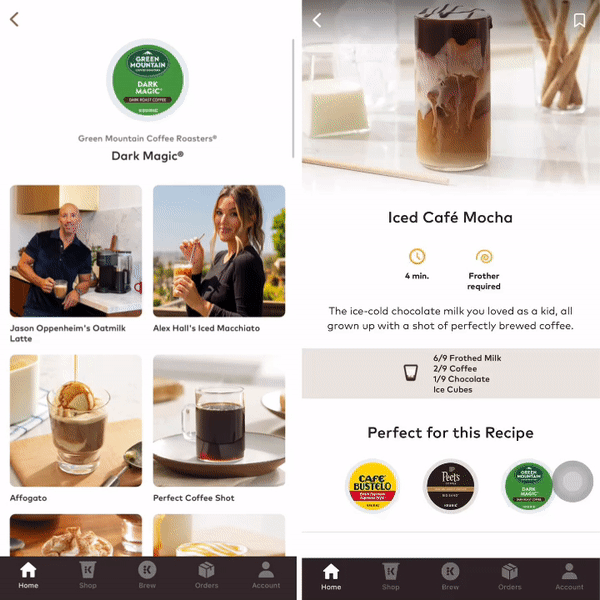 The Keurig app is where convenience comes in. It features Barista Mode, where you can find inspiration and easy-to-follow recipes for creating delicious hot, iced, or specialty coffee-style brews like cappuccinos, lattes, etc. The app gives you recommendations based on the K-Cup pod you've loaded into your smart coffee maker. As someone who doesn't know much about coffee making, this is something I loved because it made experimentation so much more accessible. The app lets you schedule your brews to suit your daily routine, whether it's your morning eight-ounce cup of coffee or a midday iced coffee. I have taken full advantage of this feature, especially in the morning when I brush my teeth practically half asleep.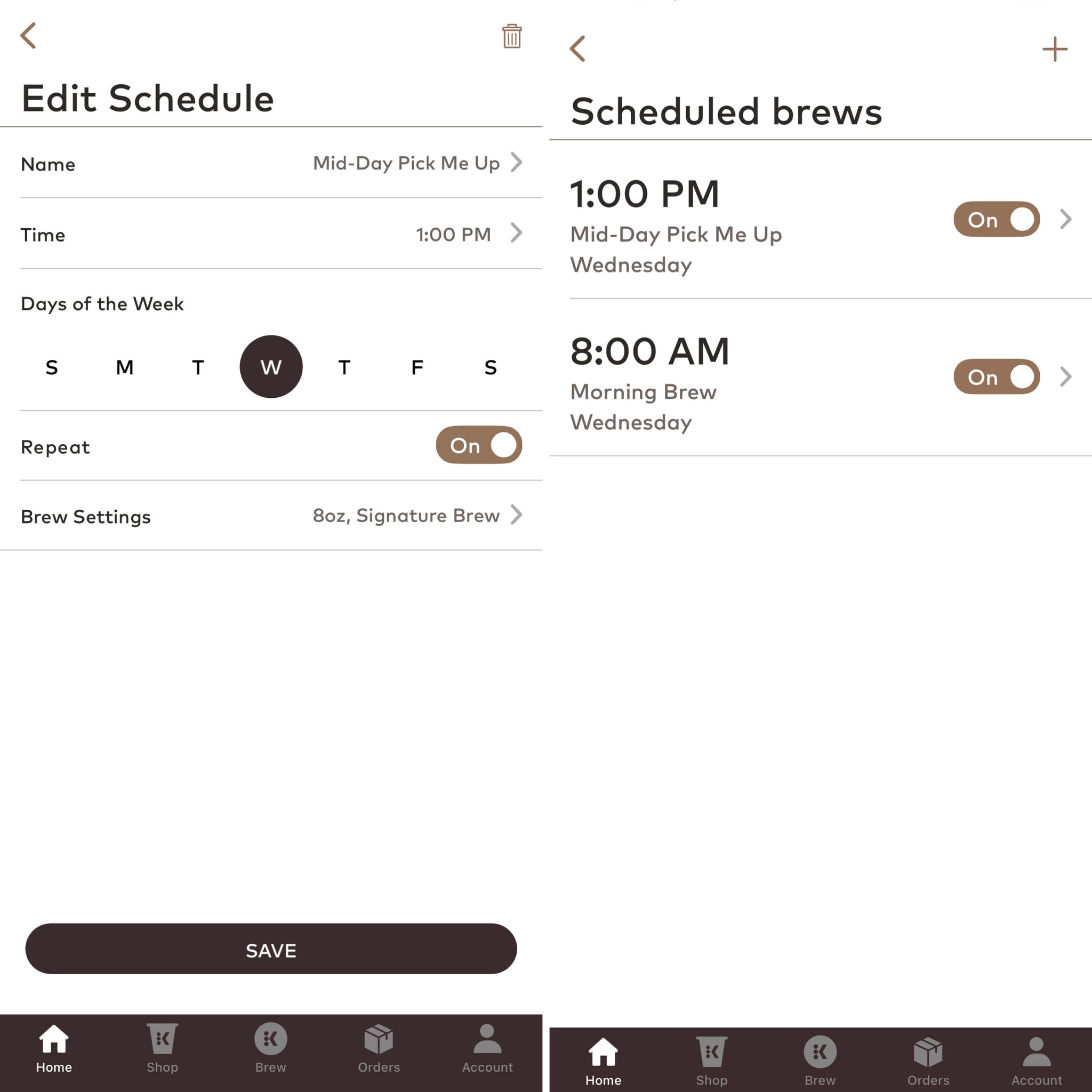 What to Note About the Keurig K-Café Smart Coffee Machine
With this coffee machine, you can program infusions in advance. All you need to do for brewing is place a K-cup pod in the K-Café smart coffee machine and a cup on the drip tray the night before. However, you should not put the milk of your choice into the frother ahead of time for obvious health and safety reasons. What I like to do is schedule my coffee to brew during my morning routine. When I'm ready to sip, I put my milk of choice in the frother, let it do its job, and top off my coffee with frothy sweetness. If you are using vegetable milk, use the frother on second or third speed. This will give it a creamier taste and texture.
While the K-Café smart coffee machine isn't bulky, it's not the thinnest in the Keurig lineup. Make sure you have enough space on the counter or on the table, as it is 11 inches wide and requires about 18 inches of height clearance. If you have limited counter space, I recommend getting a small bar cart and creating your own coffee and tea station in your home.
The smart coffee maker allows you to create a wide assortment of iced drinks, just be sure to put in enough ice to compensate for the brewing temperature. I like to fill my cup or mug two-thirds full of ice and froth my milk on the cold (snowflake) setting to make sure my coffee stays ice cold.
You can also remove the drip tray to fit larger tumblers and travel mugs.
Who is the Keurig K-Café smart coffee machine for?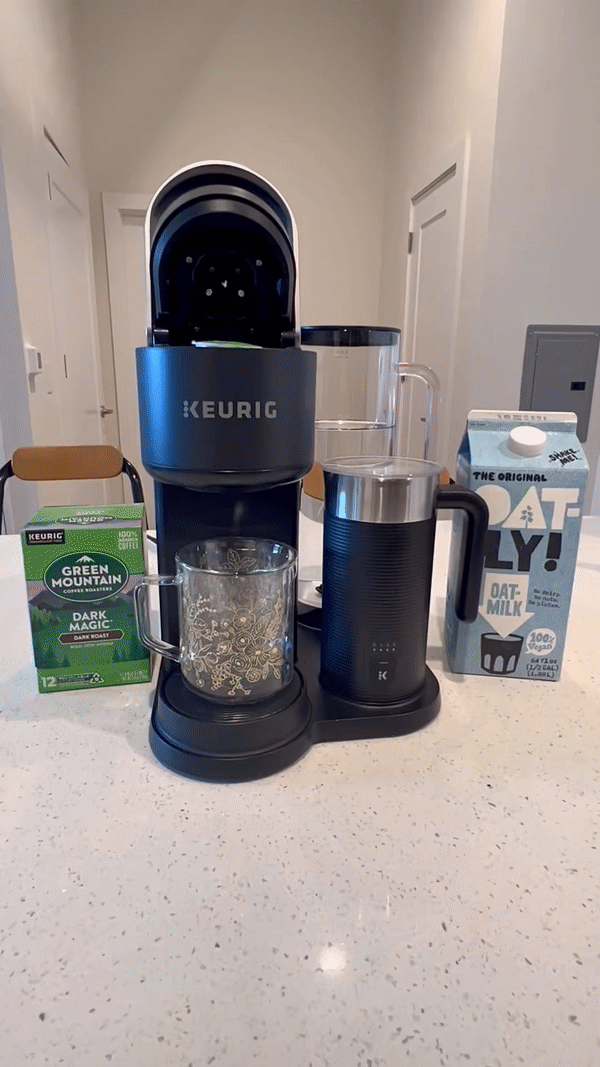 The Keurig K-Café smart coffee machine prioritizes convenience and personalization, and for a coffee lover, it's a true masterpiece. It's ideal for multitaskers who juggle everything from multiple projects and meetings to parenting to errands and chores. With the ability to program brews and customize them remotely, I can enjoy a cup of coffee without spending too much time on it.
If you're too busy to brew a cup of coffee or just like a streamlined, automated routine, this smart coffee machine lets you pretty much have a sleek Starbucks on your counter. Plus, it can brew more than just coffee, including tea or hot chocolate.
Is the Keurig K-Café smart coffee machine worth the splurge?
The Keurig K-Café smart coffee machine is definitely worth it if you're a coffee drinker who frequents the Starbucks app as much as TikTok. You can create and customize your craft coffees, teas and other beverages offered by Keurig. Instead of paying $5-$10 per coffee, you'll save in the long run with this one-time investment. It streamlines your daily coffee routine without compromising quality. Plus, who doesn't want to sip freshly brewed coffee all brewed and ready for you when you roll out of bed? !
The big advantages of this brewer are its smart features that allow you to create and program your ideal cup right from your phone. The powerful yet quiet milk frother is a huge bonus to enhance your coffee and make it a true barista experience. If you already have a Keurig machine, this would be the perfect upgrade. It's something every coffee lover will appreciate, and it's a perfect gift.
Where is this Keurig K-Café smart coffee machine available?
The Keurig K-Café smart coffee machine is available on the brand's website, at Target ($200), and on Amazon ($200, originally $250).
Evaluation:

Image source: POPSUGAR Photography / Anvita Reddy